WooCommerce costs: This is what you need to calculate

If you are looking for a suitable shop system for WordPress, WooCommerce is a solution. The extensive plugin is especially characterized by its simple implementation, a user-friendly interface, a modular structure and its various possibilities. Who is interested in WooCommerce, will sooner or later ask the question, what the WooCommerce costs are.
We want to tell you one special advantage in advance: If you only use the open source basic version, there are no WooCommerce costs. The installation and connection to WordPress are free of charge. If, on the other hand, you want to create more functionality and a professional online shop, different WooCommerce costs arise due to the extensions. In addition, you should always consider the fixed costs of WordPress when using WooCommerce. Below we have created an overview of all WooCommerce costs.
For whom and for what WooCommerce is useful?
WooCommerce is particularly well suited for small and medium-sized businesses. Start-ups also do nothing wrong with WooCommerce. If your online shop grows and with it the technical requirements, a switch to another shop system, such as Shopfiy, can make sense.
In addition to physical and digital products, WooCommerce is equally suitable for selling external products.
To use WooCommerce, the following system requirements must be met:
PHP version 7.4 (>)
MySQL version 5.6 (>) OR MariaDB version 10.1 (>)
HTTPS
WordPress memory limit of at least 128 MB, better 256 MB (>)
SSL Certificate
No WooCommerce costs in the basic version
As mentioned in the introduction, there are no WooCommerce costs when using the basic version, which you can conveniently download. WooCommerce is developed as an open-source system for WordPress. Already in the basic version you get a lot of beginner-friendly functionalities and flexible options for your online shop, without any costs for installing and using the WooCommerce plugin.
However, if you want professional solutions for your online shop and meet the current demands of your target audience in terms of design as well as handling, you will need modular extensions, which, on the other hand, bring WooCommerce costs with them. Your domain, the hosting and the design cause follow-up costs that you have to calculate in.
Fixed and custom WooCommerce costs
A great advantage of WooCommerce is having the option to scale the costs yourself. With the extensions, you determine the scope of your online shop and thus the ongoing expenses. Fixed WooCommerce costs are basically on the services already mentioned above, such as your domain and hosting. If you are already working with WordPress, these are part of your calculations anyway, but should also be taken into account in the WooCommerce costs – regardless of whether you use the paid features or the free add-ons, tools and templates.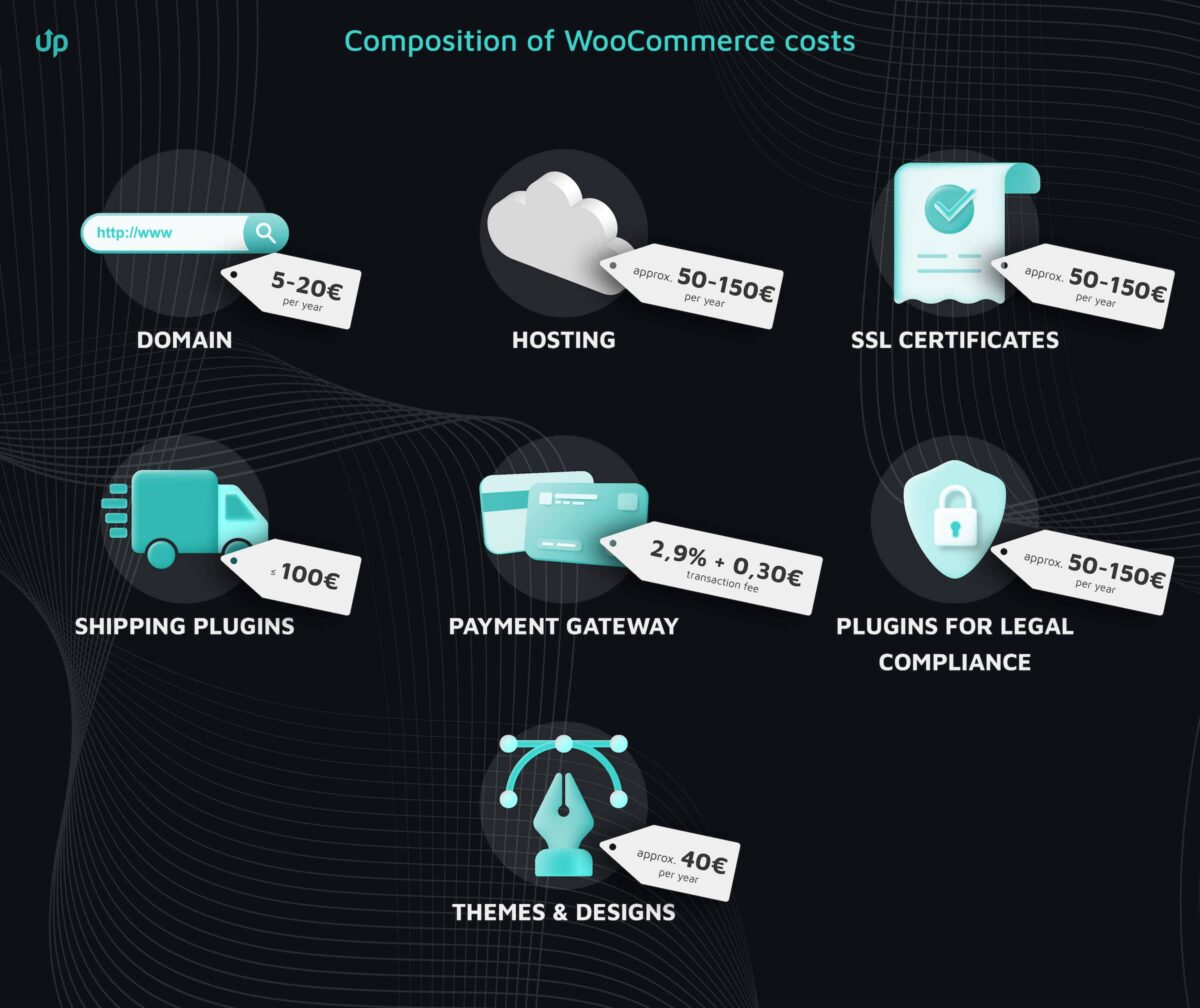 Domain
The domain is the foundation on which you build your online shop. For the registration of your desired domain, under which your WooCommerce shop can be found later, recurring costs are incurred. If domains are not included in the web hosting, create them with a third-party provider.
The costs for a domain range from 5 to 20 euros per year, depending on the provider.
Hosting
WooCommerce can only be used in combination with a WordPress site. Accordingly, your website must be hosted on a web server. You will need web space and a web hosting plan. Which service provider you choose for web hosting is up to you. Here it depends on your individual requirements to the provider. WooCommerce itself already suggests some possible providers.
Nevertheless, take a closer look, because you will ultimately have to bear the costs as well. Among other things, make sure that the hosting provides backups and reliable protection against malware. What about the capacities and can you expand the volume if necessary? Many hosting providers offer affordable pricing models for beginners or attractive annual plans for those who want a bit more. This way, you have the WooCommerce hosting costs in your own hands.
Calculate with costs of approx. 50 to 150 euros per year for web hosting.
SSL certificates
An SSL certificate is used to encrypt data during transmission to the provider so that third party access is prevented. An SSL encryption is one of the most important trust elements in your online shop, with which you gain the trust of your customers. That is why an SSL certificate is indispensable.
Plan on spending around 50 to 200 euros or more per year here.
WooCommerce Themes and Designs
An appealing design tailored to your target group is your signature and determines the first impression of customers who come to your website. Accordingly, you should carefully choose a theme for your online shop. With the customizations you integrate plugins, widgets, etc. and can tailor your design to your preferences.
You can save costs with the free themes like Storefront, Boutique and Deli. Storefront is the official WooCommerce theme. You can customize the free themes, but to a much lesser extent than the premium designs, which come with additional WooCommerce costs. You can get many of them for around €40 per year. There are no limits to what you can do upwards. WooCommerce is also compatible with WordPress themes.
Whether you go for the free or paid themes depends on your needs. If a premium theme fits well with your target audience, don't shy away from the WooCommerce cost. In the end, a sophisticated layout is guaranteed to pay off.
Shipping
Products that customers buy from you need to be shipped afterwards. WooCommerce includes a shipping solution in the basic version with a manageable range of services, which is a good alternative for smaller online shops and saves costs.
However, every larger shop should resort to a paid plugin where WooCommerce costs are incurred, which are invested wisely. One to mention here would be ShipStation. Shipment tracking, fulfillment and many other functions facilitate logistics. Other options exist with the integration of dropshipping or the connection to fulfillment service providers. The more plugins you embed in your shop, the higher the WooCommerce costs will be. Thus, only opt for features that you really need.
Shipping adds up to 100 € to the WooCommerce costs.
Payment gateway
For online merchants and customers alike, payment options are important. Did you know that many customers abandon checkout if they can't find their preferred payment method? You can learn more about this in our article How to choose the right payment options.
A payment gateway can either redirect customers to an external site where the payment is processed or create a direct gateway so that payments can be completed on your own site. Most plugins handle all common credit and debit cards. Apple Pay and Android Pay are also integrated.
No monthly WooCommerce costs are incurred when using the free WooCommerce Payments plugin. Here, a transaction fee of 2.9% plus 0.30 € is incurred solely for payment processing. Paid plugins bring more convenience for customers, for example, the ability to shop payment data. They also process refunds, subscriptions or pre-orders.
German Market Plugin and WooCommerce Germanized
Finally, we would like to introduce you to two, in our opinion, important WooCommerce plugins for German online shops, which will make your WooCommerce costs higher, but can protect you from even higher subsequent costs if the worst comes to the worst.
German Market Plugin ensures that your shop becomes legally compliant in Germany and Austria. You protect yourself from warnings by integrating secure legal texts without having to dig deep into the laws yourself.
WooCommerce Germanized offers an alternative to this. With the plugin, you can create and embed legal notice pages at any time. Based on your WooCommerce costs, you have the choice between the free basic versions and the paid upgrades.
Calculate with further WooCommerce costs when buying licenses with about 50 to 150 € per year.
Calculate costs unrelated to WooCommerce
When doing your calculations, don't just consider the obvious WooCommerce costs. You will inevitably invest a lot of time in setting up and optimizing your WooCommerce shop. Setup and management require an amount of time investment. That time will be missed elsewhere. This creates indirect costs – and not a small one at that. Think here of the hourly price of a web designer.
Calculating WooCommerce costs in terms of labor are not easy to consider, as many different factors play a role. We recommend hiring a professional agency in case of little knowledge about building a well thought-out online shop or lack of time. Plan for just under 2,000 to 5,000 euros for this, depending on the services.
The total WooCommerce costs
In conclusion, WooCommerce costs vary significantly. It all depends on how comprehensive you want your online shop to be and what you want to offer your customers. Just using WooCommerce can be at no cost or you can pay for the extensions. More precisely, a WooCommerce shop is never free of charge, as there are always at least indirect costs due to hosting, domain, etc.
Erfolgsgeschichten